Beauty Photography Corona Edition: #CARonashooting
It's early 2020, the year is still young, and it can hardly get any worse. The whole world is hit by a pandemic, uncertainty reigns, and social distancing is the order of the day. Only a few sectors of the economy are spared, and even as a photographer I quickly feel the effects. At first, only productions in Italy were canceled, shortly followed by widespread entry bans, and only a short time later the entire world came to a standstill. There are no more photo productions and one project after the other is canceled.
It's hard for us humans to keep our distance, and I'm sure we all noticed that more than clearly during this time. However, the necessary 2-meter distance is a difficult challenge in beauty shoots in two respects. As a hair and make-up artist, you need to work in direct personal contact with people, and as a beauty photographer, you invade the immediate personal space of a person. Unfortunately, this also makes shoots on the smallest scale impossible.
Technically, it would be an idea to be able to keep a greater distance to the model with a lens of a different focal length. In practice, however, you notice an immense difference between the different focal lengths of lenses, especially in beauty photography. With the choice of lens, I essentially determine my image style and make use of the optical properties of the respective focal length, with which I can strongly influence the mood of the image. Especially for close-up photos of lips or eyes, I need a macro lens.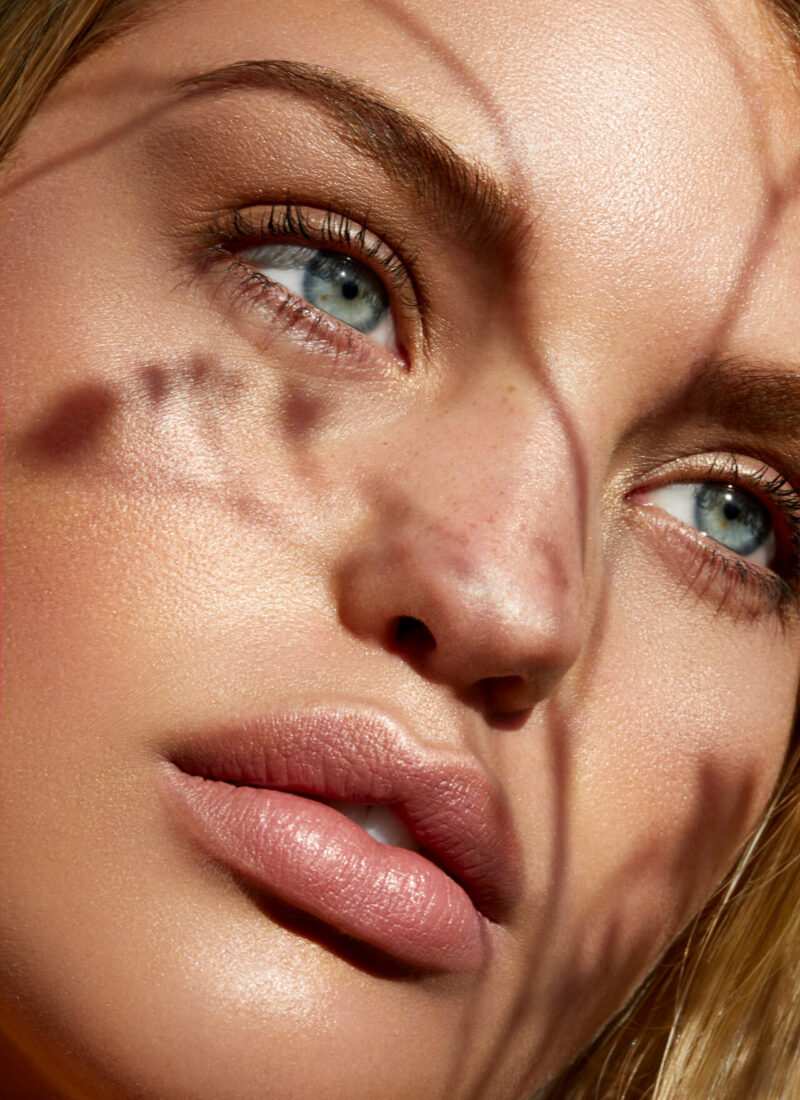 After staying in quarantine at home for almost 2 months and only going out to do shopping, I had been spending a lot of time retouching photos and working out ideas and concepts. I was slowly but surely gripped by the desire to get creative again. In the meantime, I had collected a lot of inspiration that I would have already implemented right away under normal circumstances. I thought for a long time about whether there would be an imminent possibility of creating a photo shoot despite COVID-19 and social distancing.

During a shopping trip, I looked at the improvised protective walls made of Plexiglas that were attached to the cash register, and asked myself: could such protection also be used for a shoot between the photographer and the model? Ideally, it would be dark on the camera side to reduce light reflections on the surface, and as bright as possible on the other side.
I quickly came up with the idea of photographing from inside the car. With the windows closed, it's a new space, and darker than the ambient light outside. On a sunny day, it's much brighter outside than in the car, so the reflections on the window pane are limited and the sunlight provides plenty of brightness for beautiful photos. A real #carona shoot!
I asked a model friend, Mia from Berlin, to join me. She was immediately enthusiastic about the idea. A little later I found myself with my car in her driveway. I waited for my model, who then sat down with her own makeup and hairstyling in the driveway and handed me a handful of flowers through the car window. This was a very funny and unusual situation at first.
Instead of using a large flash system and many setting options like I would usually, I only had one large light source in the sky, which served as my light source for the shoot with its natural and harsh light. I especially liked playing with light and shadow.
It was a lot of fun and I also love the results: you can see them here.
Do you also feel like doing a #CARonashooting? Tag me and use the hashtag #CARonashooting on your results. I'd love to see the results!